2017
- We put all our energy into the producing process for 'THE DAY OF THE LORD'. It will be released in early 2018. As we did on its predecessor, we nailed down our best material so far. We are very proud about the results. It is raw, vital and brutally direct as it is NOT fucking quantized or re-amped, but handmade, brutal and rolling. On top of that, we teamed up with some guests. This was great fun and an enrichment for the album! We are thoroughly enthusiastic about winning Markus Heule over for the project. He makes a priceless effort to give our work the sound it needs and deserves! It is so great to have such a generous friend with all his phenomenal skills and crazy equipment on board. The results speak for themselves! Andreas Hebeisen, engineer for 'LET THERE BE GOD', again placed his amazing stamp during another photo session for making us look glorious again! Now we are looking forward to resuming live activities again!
---
2016
- Composing, arranging, recording and doing rough mixes lead to great
listening partys
. We tightened up our live set with some catchy samples and played cool shows by the second half of the year. But the coolest impact on the BRUTAL GOD show has our new part-time member
Möne
! She is a real good compadre and acts on stage like a beast.
The year ended up with a great gig at New Year's Eve and left us with a lot of work to finish down the bunker. Stay tuned for more brutal songs and hopefully a new LP in 2017!
---
2015
- Evolving brutality down the bunker! In defiance of the normal shitload of duties beside the band, Bari, Mitch and Dave made it to new heights in composing and arranging songs. This of course leaded to the decision to make another record for having the best of it nailed down to the bands history. But that meant also a lot of
body work
inside the bunker: New equipment, an isolated recoding box and a new entertainment system for the fun of it, had to be planned, bought, build and tested. As the chance came along to present the new material
live to people
, the assault on the recoding process just started at the end of the year.
---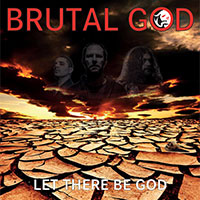 2014
- After the release of "Let there be God" by the end of January, the year started by the band 's first live appearance in the trio line-up. This first show in early February (@Graffiti, Berne) represented an important mile­stone: The trio formation sounds brutal as hell!
In addition, BRUTAL GOD was able to place the song "Purgatory Rise" on the Legacy sampler No. 89. In the same magazine there is an interview and a review of "Let there be God".
Legacy 089 - 10/15 review, interview and sampler-art
The original Legacy interview with Daniel Ableev
In terms of the previous EP (Back from Hell), Dave found an extremely entertaining and perceptive
review
that proves once again that things that have been made with passion eventually produce the well-deserved echo.
---
2013
- A year of reorganisation and hard work for both - the re-arrangement of the long standing material and the composing of new tracks. Bassman Dave superbly acted his part in brushing up his voice for the vocals. Mitch is now shredding at least one and a half guitars and Bari tightened his drums. In February his majesty Andreas Hebeisen again did a tremendous effort to bann BRUTAL GOD's ugly faces on some great prints.
The band planned to handle a project for a new release charily by first of all doing some solid rehearsal room takes of the new songs just to refresh the band's website in order to do the "real" recordings later in a studio. But at the end of october the complete recordings for an EP had somehow formed together and the band decided to publish the material - in opposition to their primary plans - as an official release. The recordings are raw, without any frills and correspond properly with the band's basic attitude. The additions of guest musician Francesco "Ciccio" Bettamin, BRUTAL GOD's one-man-brass-section, increase the band's vision and concept for LET THERE BE GOD to a Trojan strike.
His accurate ears and his precision at the console transformed Andreas Hebeisen finally into the most important man behind the band. An All-hail goes out to king Andy!
LET THERE BE GOD Recording - Impressions
Photosession in February with Andreas Hebeisen
---
2012
- The Band was proud to present the new EP 'Back From Hell' in January. It has been completely recorded and mixed in the band's bunker. Roman at Bird Studios did the mastering. We are very proud of the results, in particular of having nailed down the tightest and steadiest line-up BRUTAL GOD ever consisted of.
Sadly 'Back from Hell' represents the last recording of Patrick's guitar and voice as he died all of a sudden in September. In confrontation with that ugly fact, the band had to find a way to deal with this. With the certainty of still having the best formation for that band since its foundation, Mitch, Dave and Bari decided to continue BRUTAL GOD as a three piece venture and have initiated the works for a new album.
Found on the web (check out at 6.08!)
---
2011
- Since the beginning of march, BRUTAL GOD was back on his trio-formation again. Due to a lack of time ressources, Michi quitted the band. It was a pity! In fact, BRUTAL GOD was in the starting holes to resume live activities. Luckily enough, Dave, BRUTAL GOD's present bassist (Ex-Trickshot), showed up very soon. Dave's participation is a complete bonanza for the band! BRUTAL GOD concentrated on recording sessions for a while. We plan to publish the results in January 2012. The promotion pictures for the new website (launched in August) and cover artwork have been made again by Andreas Hebeisen who had done photographs for the band at other occasions (e.g. Hell). After having finally resumed live activities in September, the year ended getting done the work for the new EP.
Photosession with Andreas Hebeisen
Back on Track-Party
---
2010
- During that year BRUTAL GOD did not have live activities, although the band had chances to play. For example BRUTAL GOD was elected to play the competition for a support-slot at the Wacken-Festival 2010. BRUTAL GOD was one of 16 bands to do the competition, chosen out of 120. A great suprise and a success too. Sadly, BRUTAL GOD was not able to challenge the competition. Bari had to undergo a surgery of his ankle due to an accident that happened in summer 2009. Therefore he was not able to do any pedalwork. So there were not many timeslots to plan any shows. But nonetheless, the rehearsals took place every week with great fun and power! BRUTAL GOD was looking forward to play shows in 2011.
Bunker impressions
---
2009
- In April, the band broke up with Psyko, who had been the band's bassist for almost 10 years. Marcel did not turn out to be the right choice for the vocal job. In August/September, the torso of the band, which, after all these years, turned out to actually constitute BRUTAL GOD (Patrick, Bari & Mitch) had to find a new bassist. At first, BRUTAL GOD tinkered with the idea of staying a trio. But as Mitch always said: Three is one less! So that bass-quest started.
The search, as supposed, turned out to be quite difficult. In September 2009 finally, BRUTAL GOD was contacted by Michi, former bassist of the Swiss-Metallers ,Drifter'. BRUTAL GOD was finally complete and started rehearsing as a quartet. Patrick took over the vocal job, which is most likely one of the best decisions the band has ever made!
After a period of almost 10 years, BRUTAL GOD has moved from Winterthur to Dietikon, where they discovered the perfect rehearsal room for all of their needs: playing and production, and a huge fridge for an endless stream of beer!
Brutal God's 10th anniversary
---
2008
- In March, Bari appeared suddenly in a legendary rehearsal session and spontaneously banged the whole HELL-live-set with the two guitarists, although there havn't been any rehearsal sessions for a long time. This made everything clear! This line-up brought back that Brutal Roll finally! Bari joined BRUTAL GOD again. For a concert in Saas Fe in April, 'Wild Zero' drummer Marcel was consulted as vocalist.
---
2007
- HELL was unleashed in summer. Bari was obliged to quit the band shortly after due to family reasons. Walt, vocalist on HELL and most of the preceding demo-recordings also quitted the band.
During that year, BRUTAL GOD was requested by a fan to play at the Wacken Festival (Metal Hammer 10/2007)! Hopefully this will happen one day! Thank you Philipp!
---
2006
- Recordings for HELL (BRUTAL GOD's first full length record) during summer and autumn. Producers of the album were Ralph Beier (Assburn Studio) and BRUTAL GOD.
---
2005
- BRUTAL GOD performed many shows during that year. A perfect prearrangement for the first album so called HELL.
---
2004
- Studio work for " Days of Terror" , the 4th and last demo (recorded with Jean-Claude Brunner on drums), which appeared in autumn. In December Bari joined the band for the drum department. The band began to find their groove. The line up seemed to be right to play the sound of BRUTAL GOD.
---
2003
- Release of "Painful damned trip", another demo. Mitch joined the band at the end of that year.
---
2002
- Release of "For all the death", a second demo. At the end of that year, the name of the band was changed into BRUTAL GOD.
---
2000
- A year in the rehearsal room. The band began to develop.
---
1999
- Patrick founded the band "Brutal God Jahwe". The first demo, called "Masters of fire" was recorded by Patrick nearly alone.